I had another one of those nights, where you wake up at 5 am and think and think and can't stop thinking in order to get yourself to sleep. Usually when this happens I pull myself out of bed and try to either solve the issue I was thinking about or in most cases actually create the item I planning/constructing/sewing in my mind. Since my ever growing pregnant belly is too daunting to drag out of bed at 5am, I instead rolled around, thinking, checking the clock until I eventually exhausted myself and fell asleep three hours later for a short enough 'morning nap' to find the energy to get up and work on the project that caused my obsessive thinking.
I wanted to create something not totally unlike the pixie bag, but something more casual without the pleats, that would resemble a smallish tote/purse. I also wanted it to look slightly trendy/hip, and thought I'd go with a slight retro/70's inspired stripping with satin ribbons. Here's the finished product;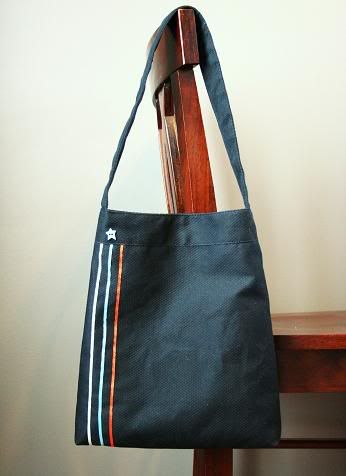 The style reminds me of shorts that I've seen my brother wearing in family photos from the 70's. The vibrant orange and turquoise ribbon seems to bring a nostalgic feeling for me, although I wasn't born till the 80's I've often looked through those photos and dreamed of what it would have been like to have been born closer in age to my other siblings. I think I'll name it Peter, which is my brothers (the short wearer's) middle name.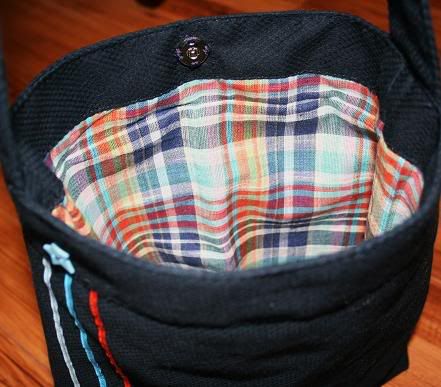 I'm not certain that I recreated the item I was really dreaming about, the sizing almost too closely resembles a tote, while being too slim and short to actually BE a true tote, maybe I should have shortened it a little more. The strap is a little longer then the pixie strap, allowing it to fall a little lower under the arm. I wasn't looking for this vibe, but it does look like a fun purse for a tween, big enough to carry lots of fun notebooks, markers, maybe a tween magazine.
I guess I'll finish prepping the listing for the shop and see what the fine shoppers on Etsy think of it.