Nothing quite thrills me like being a seller and receiving extra positive feedback from a buyer who apparently loves their purchase!
It really makes the hours spent selecting the perfect color combinations and sorting through hundreds of buttons, the possible carpal tunnel aches and long hours so very worth the effort.
Visiting my site and seeing that the number of feedback received has changed, sends a nervous rush through my body. I'm a mix of excitement and fear, praying that everything was satisfactory. There's time when I read the comments and the rest of the world melts away for just a moment and I know in my heart that I have been successful, even if it's this one 'small' task.
So, to those who leave extra special feedback to their sellers, here's a loud resounding, heartfelt 'THANK YOU'!
I feel like a broken record coming here explaining the rarity of my posts due to the busyness of life. Forgive me for stating the obvious.
I'm happy to be busy, the sun is shining which has awakened my joy from its horrid hibernation and I'm ready to embrace the world. Yes, that last statement reads something like a pathetic love sonnet that wouldn't have made its way into any book or tale so it found its way onto my lowly blog.
I suppose I can't help but sound jubilant and thrilled about the official changing of seasons. Living in a climate that actually changes temperature rapidly and sometimes without much warning, it's important to soak up the parts you enjoy before they're torn from you. Maybe I was meant to live in a warmer climate. I'd ponder this more, but I've already made plans (that exist only in my mind and heart) to retire or settle only 4 hours away from my current location.
I suppose winter and cold or summer and heat a Newfoundland girl may be just that, a girl bound to the land she was raised in. I've always found myself revolted by the typical jolly I-love-Newfie-land-ness that often gets expressed by those who're from this province, and yet deep down could I dare admit I may be one of them? This thought may be enough to let fear and disgust for myself overtake the lovely feeling of joy I was revelling in only a moment ago. In order to retain my sanity, I have to repress these thoughts and believe that I have infinite years left to live in Vancouver, New York, Paris and Rome. Now that I've revived my expat tendencies, I'll give you a peak at a new project of mine, please don't laugh too much at my Newfoundland-loving and forsaking personality.
I've had some Newfoundland Tartan in my possession for quite a while and I've been wanting to pair it with this heavy weight corduroy that I had no real use for and couldn't imagine that the earthen brown of the fabric would ever be translated into something beautiful. I had the urge to pair the two together, they seemed to complement each other somehow, and I'm amazed at how stunningly 'homeland' but modern the overall product is.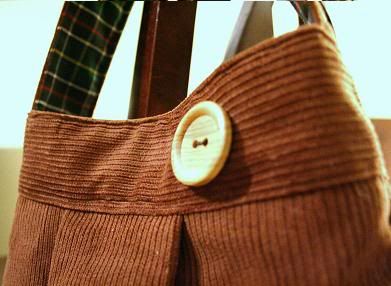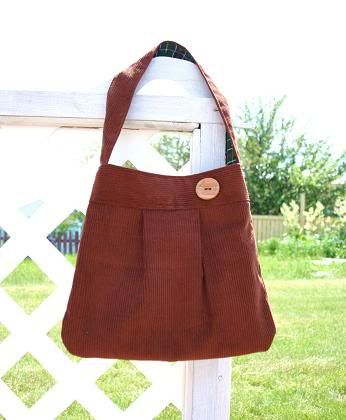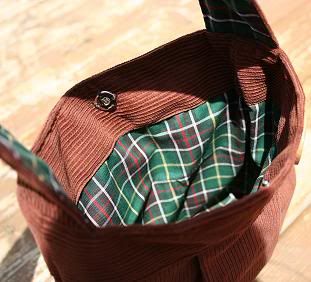 I haven't listed this in my
shop
yet, and I'm uncertain if I will. It's much more a 'local' thing and I doubt it would get much response on etsy. I may feature it in a number of craft shows during the summer. I hope to make a full 'line' like this experimenting with more earthtone corduroys. It seems to fit NL somehow.
I also have some Nova Scotia tartan that I have some plans for.
I added two new listings to the
shop
today, why not stop by and check them out. Have a beautiful weekend!