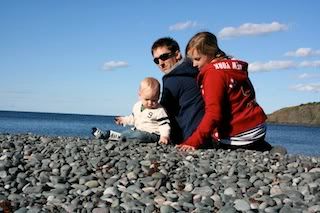 (our little family at the beach)
We have one week of our holidays completed, there is still so much left to explore and enjoy as a family. It is extremely difficult to 'vacation' with a 1 yr old, I never would have believed this statement to be as true as it is, until I experienced it. The Monster is so adept to his own surroundings, his routine is the key to my sanity, missing naps and being in someone else's home (which may not be particularly child-friendly) are stresses that simply pile on top of the normal unpredictable irritants in a day of parenting a 1 yr old. The simple fact that he is currently cutting 3-4 teeth has made this experience a task for all of us.
The Hubber's job keeps him so busy we're really trying to make the most of these few weeks, as our little family is quickly becoming a grown family. We have been doing a nice bit of shopping, since it was needed and also a little exploring. Besides for Regatta Day and this Sunny Sunday, we have had all rain, so we had to take advantage of the sun before it hid away again.
Today we visited a favorite church that we only get to attend while on holidays, had some Starbucks coffee accompanying great chat, adventured to Signal Hill and got some fun photos and then finished the day off with a trip to Middle Cove beach to try and teach the Monster to throw rocks into the water.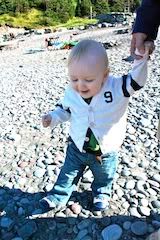 (The Monster just LOVES being outside, the wind and sun thrill him. He's particularly happy at the beach in this photo, walking on those rocks are pretty big excitement for a baby.)
Looking forward to tomorrow!!