We are currently on holidays, a whole three weeks of them! As soon as we return home, we leave again for a week of youth camp. Hence, I'm away from my shop and having family adventures for the next four weeks.
It's a little scary to have my shop in vacation mode for this long; I don't like the idea that people can't at least browse my items. Any etsy-seniors out there know if it's poor etiquette to have a shop announcement that items won't be able to ship for 4 weeks? I suppose it's closer to 3 weeks now. I wish vacation mode would allow you to either keep items viewable, like they show up in treasuries, or choose to hide them.
Holidays are going well, we're having a lot of fun with family and friends. We spent a few hours at the Royal St. John's Regatta, and had the Monsters face painted and treated him to a little ice cream. The entire perimeter of the lake was packed with people, food venders, shop booths, and all kinds of games/activities. Then there were lots of people happily watching the races. One news station said there were between 40-50 thousand people there, felt more like 100,000. We didn't stay long, getting a stroller through the crowds was enough to break into an anxiety attack, but we did enjoy going and it was the Monsters and Hubbers first Regatta.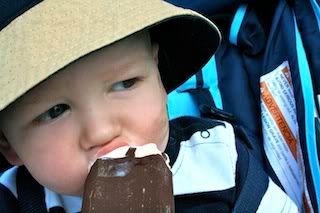 Today, we'll be hitting Toy's 'R' Us, which is still more fun for us than him at this point. Hope everyone's having a great August!
And check out another fantastic Newfoundland treasury by FolkyDolky called Shopping by the Sea!