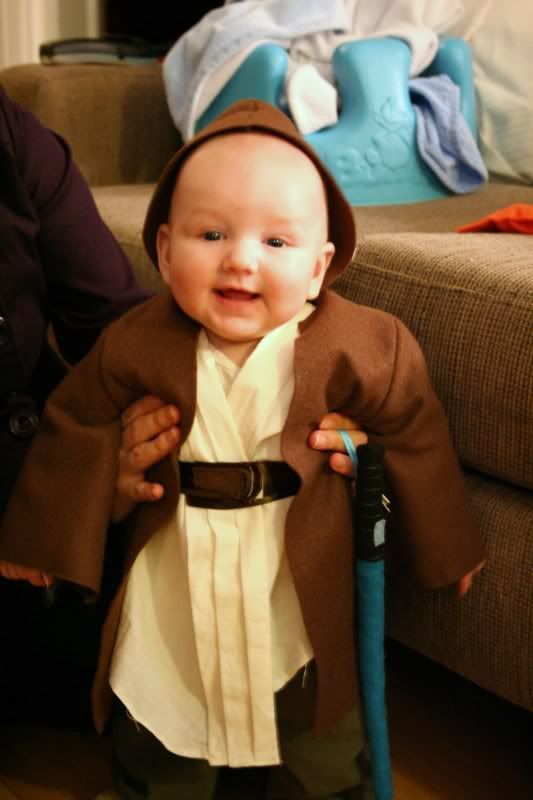 Wow, who is potentially the worst blogger in the world? The new mom with a very busy husband, whose entire family has been fighting virus after virus since the beginning of October, surely I can't take all of the blame for neglecting my blog. We had an extremely busy October month with several weekends away from home for my husband's work, which I thoroughly enjoy but we came home sick from each one. It seems like Canada's H1N1 crisis is much more severe than that which the US are facing, but the hype and nervousness over the virus and the ongoing vaccinations are dominating everyday life. My husband and myself received vaccinations, but were only able to get them because we're caretakers for a child under 6 months of age who cannot be vaccinated himself. I'm working diligently to keep the monster away from any germs or large gatherings. I'd rather take those few precautions then end up with a sick and sad little boy.
The baby is 4 months this week, I'm astounded. I can hardly remember a time when he wasn't with us, he has brought that much meaning to our lives, and yet it seems as though it were only a few days ago we were waiting for him to arrive. Regardless of my paranoia over germs I did take him to a few houses for Halloween, I had been obsessed with dressing him up as a Jedi for his first Halloween since I found out I was pregnant. Obviously not satisfied with the cheap craftsmanship of most costumes, I made my own. Check him out up there, looking all handsome and adorable!
Speaking of neglecting my blog, I've also woefully neglected my shop. It's unreal how much I've over-estimated my ability to work at my sewing machine with an infant. He finally seems to have hit a schedule of sorts, which means I can now begin to schedule my day along with his. I'm hoping this means I'll find time to sew. Obviously everything is still shipping on time, it's just getting difficult to create new items to post and keep the shop updating.
Besides for that, it seems as tho the economy has yet to recover for most of the world. While things seem to be looking up for most of Canada, I'm not seeing the usual popular items selling like they once would. Praying things perk up with Christmas approaching. Really need to get back to promoting and adding new items.
I promise to write something captivating and witty as soon as I find the passion and time!