Sadly, a week has gone by. I was on such a good roll with adding new posts. The Christmas season is always a very busy one for my family, and in our home it starts early, add to that the emotions of a teething baby, and I guess my reasons for going a week without posting are good ones.
.
I've nearly finished all of my Christmas shopping, and have a few other things to add. I also have to get photos of the baby done to add to the Christmas cards this year. I'm not big on the whole Christmas card sending/receiving trend, it's very much an expectation that people fulfill their obligation to this trend, especially when they have an infant and people want to see pictures of him. My argument is along the lines of, what to do with all of the cards (I do keep many, and I always keep any pictures that may come), and the expense of the cards/postage which could go to better places. I can't help but think of all of the paper used for the mass production of holiday cards. Don't get me wrong, I really enjoy handmade cards, and I always keep them. I also enjoy cards that are a little 3-D or have beautiful details. I try to recycle the card stock in the cards we get whenever I can. I used this idea from Martha Stewart one year;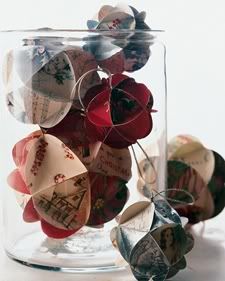 This was a beautiful craft, and a great way to up cycle, but for someone without a circle cutter, it's a little labour intensive. I'm really hoping to get the Marta Stewart Circle Cutter sometime soon. I found it at a Wal-Mart near me, and didn't buy it. I now regret it and haven't seen one since.
.
Here's another twist on the same concept; Click and Print Ornaments, instead of printing all of them, just print them as templates and them use Christmas cards to make them.
.
Here's another idea that would work nicely and it's a great craft for kids, How-To; Recycled Ornaments
.
Now, for another use for your letter stencils. I printed the entire alphabet, because I knew I'd use it. I did have something in mind for it. Here's a little something I'm making for my son. It's a total of 18"x18" and I'm planning on making it into a large cushion. It was quite labour intensive getting the letters spaced properly, and lined up. So I've kind of abandoned it for a few weeks. I hope to finish it by Christmas.
.
Here's my tool caddy. It makes getting all of little tools around the house easier, the wooden tray was just $1.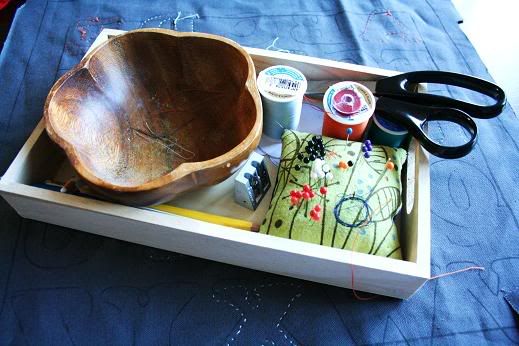 I cut the entire alphabet from red, orange, turquoise and pale blue felt. Then I mapped out where they should go on the front of the pillow. To do this I traced all the letters on the back, but this wasn't an overly effective method for spacing the letters. It did work as a general guide, but my eye was really what I relied on.
.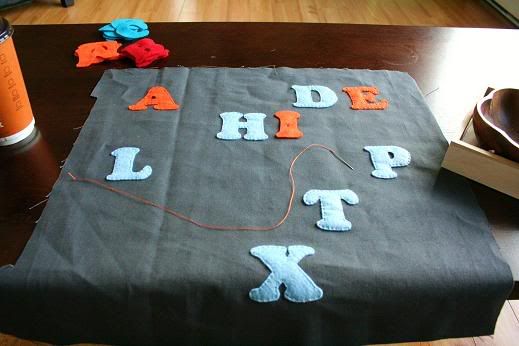 .
Each letter is hand stitched with the same colour thread, I already had these colours in my supplies, so I had no added expense in creating this. I love the way the colours work together, and I think they're spaced well, it looks clean and I really hope Benjamin will enjoy it for a long time (once I finish it).
.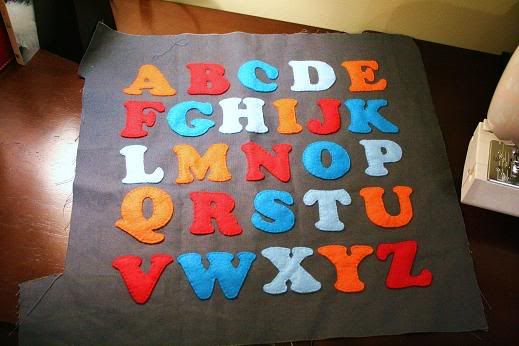 .

I hope everyone's enjoying their holiday prep!
...
By the way: Can anyone tell me WHY blogger/blogspot doesn't allow me to space my paragraphs? Is there something messed up in my formatting? In order to get spaces I have to add some sort of character between the paragraphs. I'm annoyed with this. Help?