Is it even possible to overestimate how busy the Christmas/Holiday season will be? It seems as though the year flows in spurts of busyness and extra-busyness. I had hoped to be posting my NL-Etsy seller features much more consistently. Alas, life has rushed in and filled my days (and nights). I am extra thankful for my coffee maker and thankful that Handy Manny finds his way into our home to entertain a very active 5 month old. It seems the world is full of last minute shopper's, much like myself, because I've been busy pumping out some orders and working very hard to get them to their destinations by Christmas. I don't know if it's possible for anything to arrive on time at this point.

I'd like to take a short moment to voice my frustration with our dominant postal service, Canada Post. AHHHHHHHHHHHHHHH! There. Is it really necessary to have two ridiculous extremes in posting letters/packages? Please, don't get me wrong, I greatly appreciate all of the loyal workers who get an item from one location to another, but, I'm really annoyed with the cost of getting anything anywhere faster than regular post. Consider this, if I wanted to send something fast to the US with a tracking number, it would cost over $50 Canadian!! No matter how tiny I can manage to package it. I feel slightly crippled by the lack of shipping options provided to me.
Onto the beautiful art created by this particular featured seller.

Want something truly unique and delicately beautiful, and with prices ranging from $65 to $5,200, urve.etsy.com is the place to go.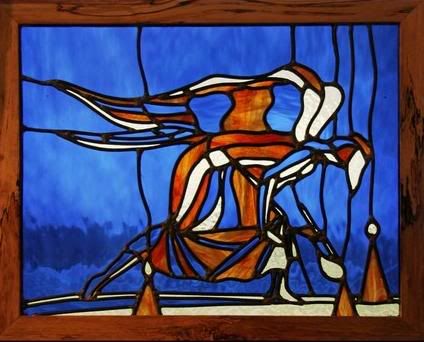 URVE - http://www.urve.etsy.com

I grew up without a television-- my parents preferred that we draw or read or practice musical instruments or GET OUT OF THE HOUSE when we drove them nuts (which was quite often, I have three brothers, and we are rather close in age). This meant that we were always busy making things; creating of some sort has always been a part of our lives.

My grandparents on my mother's side came from a small island, where fishing and farming were the mainstays; my grandfather made wooden beer steins, butter dishes, bentwood jewellery boxes, baskets woven from juniper roots, chests for food and clothing storage and my grandmother knit intricate patterns, wove colourful traditional woollen cloth, embroidered beautiful patterns for shirts, blouses, table cloths, etc. On my father's side, my grandparents came from an urban area, and they were writers and my grandfather was a painter. Lots of culture handed down in one fell swoop of genetics!

I have been working with glass for close to 20 years; I started with leaded glass, and continue to love this medium-- the panels are like paintings that are ever-changing, influenced by the changing light behind them, different glass pieces in each light up and sparkle, coming to the fore when struck by the light in certain ways.
Fused glass is newer to me, again mostly self-taught; it opens up different dimensions, and allows me to create smaller functional pieces of art.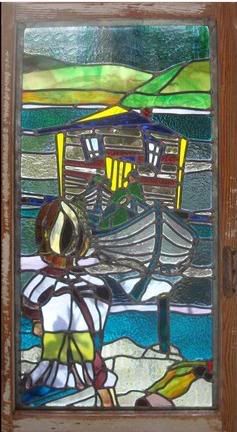 I am inspired very much by the natural world; I live on a hillside in the woods with a view of the Blow-me-Down mountain range across the Bay. The sun comes up behind me, lighting up the snowy wise old mountains in front of me first, and sets behind them at the end of the day. Can't beat the view!! I also get inspired by stories that I hear; Unsettling [see above photo], for instance, is about the resettlement program, and in this panel, you can see a house being towed across the bay by three dories, watched by a young girl on the shore. In Net Worth [see below photo], a mess of cod fish on the docks after a good haul at sea (you are what you catch, after all) is something that people say they remember seeing... not so common anymore.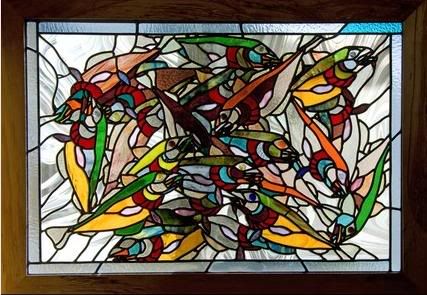 I love the versatility and the challenge of working with glass, and am looking forward to experimenting and tying this in with metal and wood. At some point, I want to be making large sculptures with combinations of these materials... slowly slowly, things evolve!

Marketing my work happens mostly through word of mouth. I have a blog, www.astonesthrowglass.blogspot.com, which helps a bit, but it is more personal than business-oriented. My new website, www.astonesthrowglass.ca, is up and running, and hopefully it will help to spread the word. Of course, I have a shop on etsy, urve.etsyshop.com, and I also have pieces at the Devon House in St. John's, as well as the Red Ochre Gallery in St. John's. Throughout the summer months, I have some of my work in a variety of shops across the island, as well as in my studio.

This spring, I will have an exhibition of a large installation, Salmon Run, at the Devon House Gallery in St. John's running May9th to June 13th. It is going to be a lot of work to get this on the go, and I am in the thick of it now!

I have travelled a lot in my life, and still have the bug-- the world still awaits, as does this province! Every year, my husband and I try to get to communities that we have not been to in Newfoundland, and realise that we could be travelling here for the rest of our lives and not see it all!