After yet another break, I've returned with another instalment of the NL Etsy Shop features. I will ramble a bit first, if you would prefer, skip on down to the feature and ignore my rambling.
.
It seems as though the world is spinning much too fast, each day blurs into the next. I can never keep up on the million things that seem to be heaped up on my plate, and those are just the mundane day-to-day things. If only I could catch up on sleep, or laundry, or cleaning, or make more stock for my shop. I suppose with a 6 month old, falling behind on these kinds of tasks is understandable. Or maybe I could eat more chocolate for energy, I guess yogurt and green vegetables makes more sense.
.
Today I FINALLY got rid of the random Christmas decorations that were left behind after I took the Christmas tree down. I was eager to get the tree up, and especially eager to get it down too. I love the beauty of putting it up, the glow, the cosiness, but once Christmas has passed, I'm thrilled to reclaim my living room.
.
For the past while, I've been thinking about clutter and minimalism. I love a clean de-cluttered look to a home, but I'm afraid I have much too much stuff. Obviously I can't just throw things out. First of all, I think something will eventually be useful to have, and most importantly I don't want to create more garbage for our already burdened mother earth. I am at a lost for what to do. It's not yard sale season, and most of it isn't suitable for a yard sale anyway. I don't have the time or energy to repurpose everything into something new and useful and sell it. I've already got a load of things to donate to Good Will. I'm thinking that's my best bet for most everything. Most items are trash worthy, if I felt comfortable adding that much to a landfill (none of it is recyclable). It's a conundrum.
.
The shop, russellpitcher boasts beautifully crafted jewellery, figures and more. Prices starting at $10 and upwards to $50.
NL Etsy Shop Feature: Russellpitcher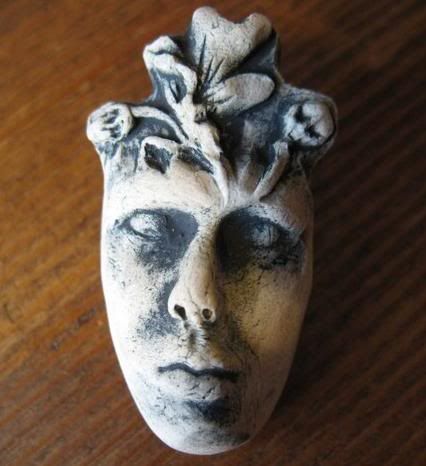 I am from Blaketown, Trinity Bay, I lived in Corner Brook for 6 years while I was finishing my Fine Arts Degree, and I now live in Conception Bay South. I have three beautiful children 8, 11, and 14. I love sculpture and fabric based arts, rug hooking, drawing, and printmaking. I find it hard to only work in one medium so I jump around.

How long have you been creating?
I feel like I have been creating my whole life. Making one thing or another. I used to drive my mother crazy begging her to help me sew this or that.

How long have you been selling on etsy?
I am not sure I think a couple of years now, it is a great site.

Do you sell anywhere besides etsy? Where? How long have you been selling via that venue?
I am a member of the NL Craft Council and usually do the craft fairs.
I also sell work in various craft stores around the province. I am having an exhibit this summer with a friend of mine Sarah Feltham, at The Diamond House in Glover Town. I have sold work to the Provincial Procurement Program and have won the NL Arts and Letters Award.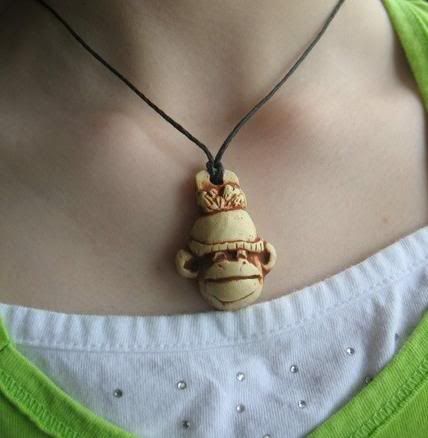 What inspires you to create? Where do you get motivation?
I am inspired by my dreams, my children, my feelings, and my surroundings and not always in that order.

Please describe your creative process how, when, materials, etc.
I try to make something every day. I am working on a group of 10 sculptures now made from celluclay all of the sculptures will have a common theme; a little red house, a woman or human like character and something menacing. I am in the process of building a studio and can't wait to rid my house of art stuff.

Do you feel like you've been affected/influenced by the Newfoundland culture in your chosen art?
Absolutely how can you not be affected by the beauty of Newfoundland. I love the sight and sounds of the ocean, I love the old houses and the fresh air.

What other activities occupy your time?
I enjoy hiking, canoeing, volley ball, swimming, dancing, hanging out with my kids and going for coffee with my friends.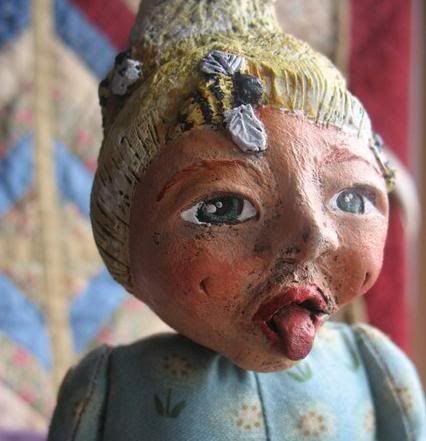 If you could recommend one book, one television program, one movie, one song what would they be?
My recent favourite book is "Reincarnation", it follows the lives of 4 individuals as they are reincarnated over and over until they get it right.

My favourite television programs are "Charmed" and "Star Trek". You know you love it when you would rather watch reruns than anything else on TV! Sci-fi rocks!

It is so hard to pick one movie but if I had to pick I would think "The Princess Bride"

I love anything by Sarah McLachlan.

If you could travel anywhere, where would you go and why?
I would love to go to Italy, to see the architecture and art I studied in school.

What methods do you use to advertise or promote your products?
I really need to get better at the advertising and promoting. Etsy is good but I need to add new work more often.