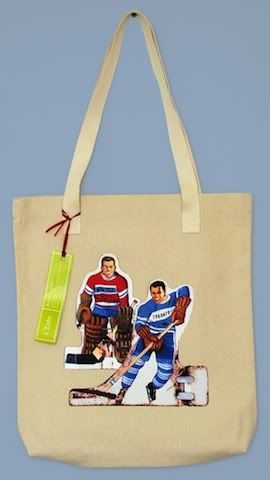 I'm captivated by this tote, '
Hockey Tote Montreal vs. Toronto
" by A
vril Loreti Modern Home Decor
on Etsy. It is very rare to find anything Hockey related on etsy (in comparison to the other trends that prevail on etsy) and what I have seen doesn't really speak to me like this does.
I am a hockey fan, more importantly I am a Montreal Canadiens Fan. My Husband on the other hand is a Toronto Maple Leafs fan. Combined, this is arguably the greatest rivalry in all of the NHL. This has caused a very interesting dynamic in our marriage and household, with contracts and oaths of silence.
Anyway, the point being that this bag reflects our 'support' of the other's allegiance while attempting not to rub-noses into triumphs/losses. I love it. The vintage style reminds me of the great days, days of the Richards, days of Beliveau, days of Plante.
Not a Hockey fan? Avril Loreti's shop has MUCH more to swoon for. One of my personal favourites was this
KitchenAid inspired tote
, that's sold and I hope hasn't been forever retired from her shop.
Hungry for more? Check out her
Blog
for more current updates of what she's doing. Oh yea, she's based in Toronto. It's great fun to buy from fellow Canadians.