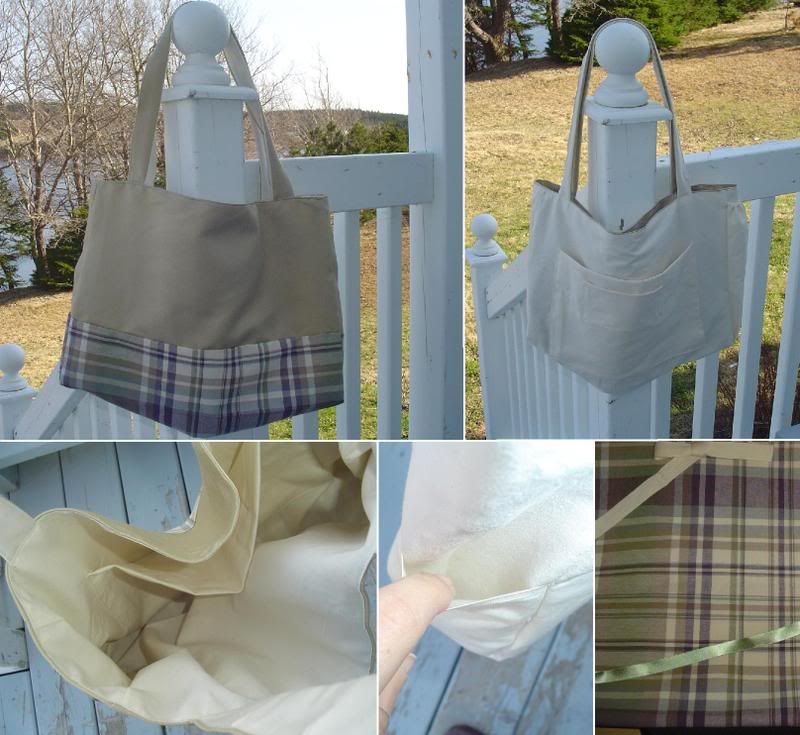 Here's a diaper bag, or "anything bag," that I made. The outside is made of really fantastic upholstery fabric, in a beige gold colour. I made the base with a fantastic purple and green plaid canvas that I found. The inside is lined with unbleached all cotton muslin. It's extremely soft. The plaid canvas was extremely expensive, so I only bought a small amount, I may be able to make one or two more bags like this with the material I have. The plaid encompasses the base of the bag, and on far sides of the bag the canvas is sewed to become two somewhat "hidden" pockets. There are two straps, making the bag easy to carry on your shoulder, these are triple stitched for extra durability, incase you'll be carrying heavy things. Inside there's a bottle holder, with an elastic top for a baby's bottle, or even a water bottle (you can kind of see this on the right hand side of the photo where the bag is turned inside out). There's one larger pocket and a smaller one on the inside as well, great for diapers, or bigger items, and the smaller one for keys, lipstick. On the side opposite the bottle holder is another small pocket, you can see it in the bottom center picture.
I could also add a ribbon in the fantastic green that you see in the bottom right picture, or some matching buttons if you'd like.

The bag masures12 inches deep, 17 inches across, and has 2.5 inches wide sides and base.

If you're interested in something similar, in different colours then simply communicate with me, I'll try to accommodate your requests. A bag of this design with cheaper fabric and few extras may cost around $20, add a bottle holder, some extra pockets for $2-3.